Product Overview
MPEG-2 Video (a highly efficient image compression standardized in ISO/IEC 13818-2) compliant software.
MPEG-2 can be used for a variety of applications, including high-definition image processing for digital broadcasting, digital video cameras, and HD network video delivery systems.
Features
Using TMC's proprietary computer algorithm "DMNA", TMC has achieved high image quality, high speed, small size and low power consumption.
High image quality (smooth motion, high PSNR) and large screen high speed operation (3 times faster than conventional) can be achieved.
MPEG-2 software can be implemented in various processors, and libraries for ARM and other processors can be provided.
The simple API interface makes it easy to embed, contributing to a shorter development time.
Specification
| | |
| --- | --- |
| Compression Format | MPEG-2(ISO/IEC 13818-2) |
| Image Format | YCbCr 4:2:0 progressive/interlaced scan |
| Resolution | 1920 x 1088 (max.) |
This IP supports both color spaces of YCbCr and YUV.
Performance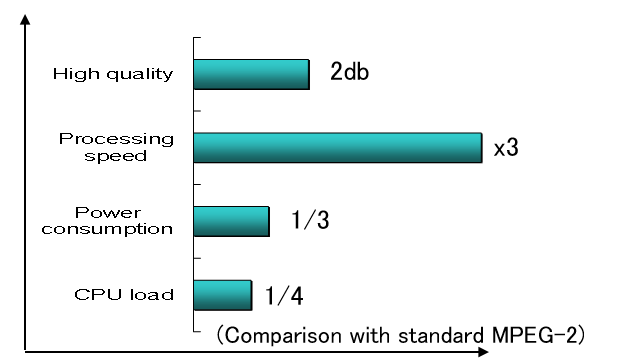 Document
Click here for a brochure