Product Overview
TMC's low latency Compact IP Codec Transmission System solves trade-off issues at the best balance, such as image size, image quality, transmission latency, transmission rate, communication cost, power consumption and weight.
Model Numbers
Encoder: TM7006E (HDMI input), TM7007E (SDI input)
Decoder: TM7006D (HDMI output)
Features
Transmitting the Full HD image at low latency as 0.1 second, maintaining practical image quality.
No stresses in using the internet because of transmission with low bit rate.
Possible for bi-directional audio communication because full duplex voice transmission function is pre-installed.
Easy operation by only pushing the power button after connecting camera, battery and network to the system.
TMC's original codec with high security of transmission data. Impossible to read even if acquiring data unjustly from the internet.
The light weight as 1.3 kg, almost same weight as 15 inches laptop computer even if including a camera and a battery.
Specification
Power Supply
DC 12 V +/- 10 percent, AC adapter (100 V to 240 V) attached
Dimensions
7.09 (W) x 1.97 (H) x 5.91 (D) inches
Weight
3.3 lbs (Main Unit)
Power Consumption
20 W (Max.)
Operating Temperature Range
0 to 50 ℃
Transmission IP Rate
128 kbps to 3 Mbps
Transmission Transfer Protocol
UDP/IP, Communication packet:  TMC's original packet for low latency
Max. Number of Linkable Decoders
20 units
Video Coding Format
TMC's original
Audio Coding Format
OPUS
Video Input Format
1080i 59.94/1080p 30/720p 60/480i 59.94/480p 30 (Automatically select)
Video Coding Frame Rate
30 fps/15 fps/10 fps/5 fps
Video and Audio Input / Output Format
HDMI/SDI (Audio Embedded)
Audio Sampling Rate
48 kHz/24 kHz
Audio Channel Number
Zero/1 ch./2 ch.
Audio Transfer Bit Rate
192 kbps/128 kbps/64 kbps/32 kbps/16 kbps (1ch)
Bi-directional Voice Communication function
Application Examples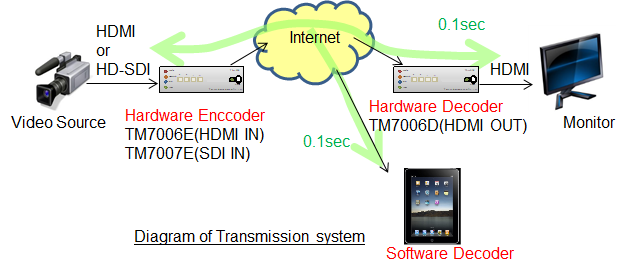 More Information
Click below for a movie
Link to YouTube
Document
Click here for a brochure