Product Overview
TMC's Multi-Codec IP is a Hardware Codec IP that supports H.265/HEVC and H.264/AVC, which are video compression and decompression standards standardized by ISO/IEC. The performance is processing 4K images, which have four times the number of pixels of Full HD, and 8K images, which also have 16 times the number of pixels. It supports 4:2:2 chroma format for professional video, and 10/12 bit depth for HDR (High Dynamic Range) video content that can express a wider range of brightness than SDR (Standard Dynamic Range).
Model Numbers
TM24544
Features
H.265/HEVC supports up to 8K 60fps processing (*1).
H.264/AVC supports up to 4K 120fps processing .
Supports 4:2:2 format and bit depth up to 12 bits for professional video.
TMC's original new compression technology allows to reduce the memory bandwidth by up to 50%.
Supports high quality and high speed encoding for HEIF (High Efficiency Image File Format) for still image.
The AXI Bus is equipped as standard for external memory access for easy integration.
Specification
| | |
| --- | --- |
| Supported Standards | Compliant to ISO/IEC23008-2, ITU-T Rec. H.265 standard, and ISO/IEC14496-10, ITU-T Rec. H.264 standard |
| Maximum Performance | 8K30fps、8K60fps (*1) |
| Image Format | YCbCr 4:2:0 / 4:2:2 |
| Image Bit Depth | 8 / 10 / 12 bits |
| Output Format | Byte stream format (Annex B) |
| External Memory Interface | AXI4 |
This IP supports both color spaces of YCbCr and YUV.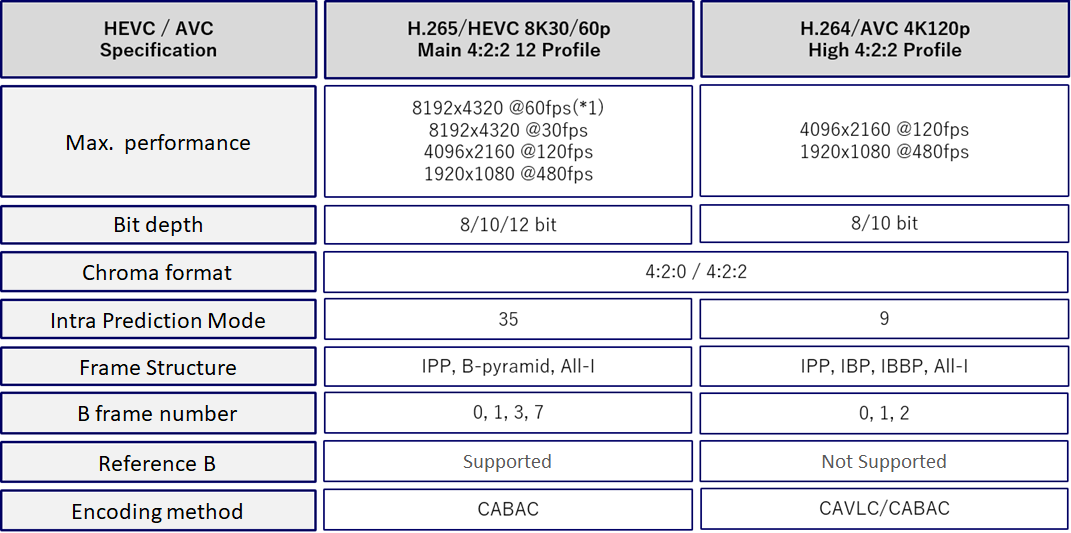 (*1) 2 cores are used